The Iron Lilies 
By Eryn Modica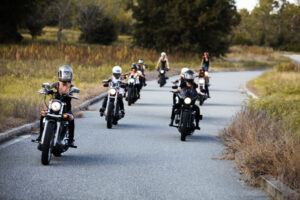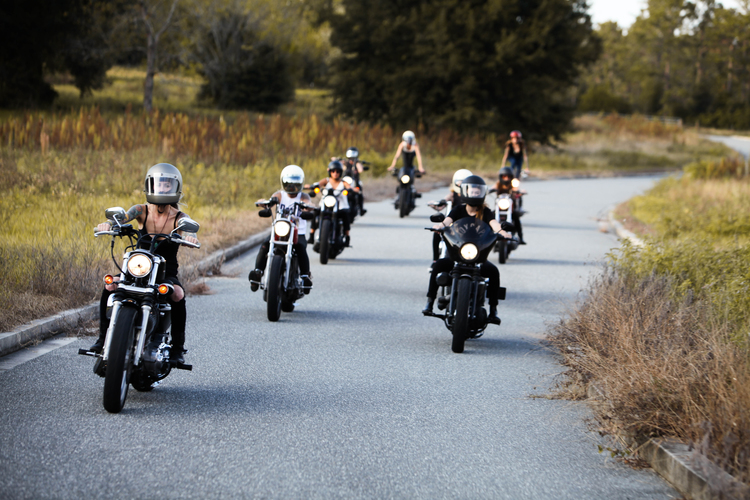 Some might look at a group like the Iron Lilies and mistake it for just another clan of leather-clad ladies, sharing their love for the ride with one another – but they'd be wrong. It's so much more than that. We sat down with their current leader, Tessa Henley, to discuss this revolution on the rise. 
The Iron Lilies is one of the most widely known women's motorcycle groups across the US, with members also in Australia, Chile, and the UK. Their origin starts with the three original Lilies. 
Lillian LaFrance became a wall of death rider in 1924 after attending a carnival and only seeing men do it. She was billed as, "The Girl Who Flirts With Death". She used a skull and crossbones as her logo and was the first to ride a wall in a scaled-down midget car. 
Lillian Hauerwas logged over 65,000 miles on her Harley by 1921. She was quoted in Motorcycle Illustrated on September 16th, 1915 saying, "Can a girl ride a motorcycle and still retain every characteristic that is expected of our best young womanhood? I certainly believe so, and my observations cover several years… As far as the girl rider is concerned, motorcycling is just what she makes it- and it's so easy to make it simply a pleasant, refreshing and economical pastime that I constantly wonder why more girls do not avail themselves of it."
Lillian Farrow owned the most prominent Harley Dealership in the country in the first half of the 1900s. She was also the only woman motorcycle dealer in the world. Being a single mother of 3, she managed to keep the business alive during WWII by selling used motorcycles and parts since all new bikes were produced solely for the military and it's because of that effort that her shop A.D. Farrow Co. is America's oldest continuously operated Harley Davidson dealership celebrating 104 years.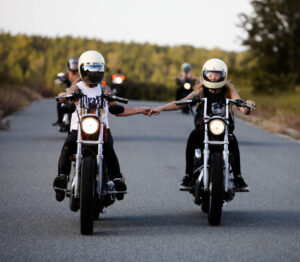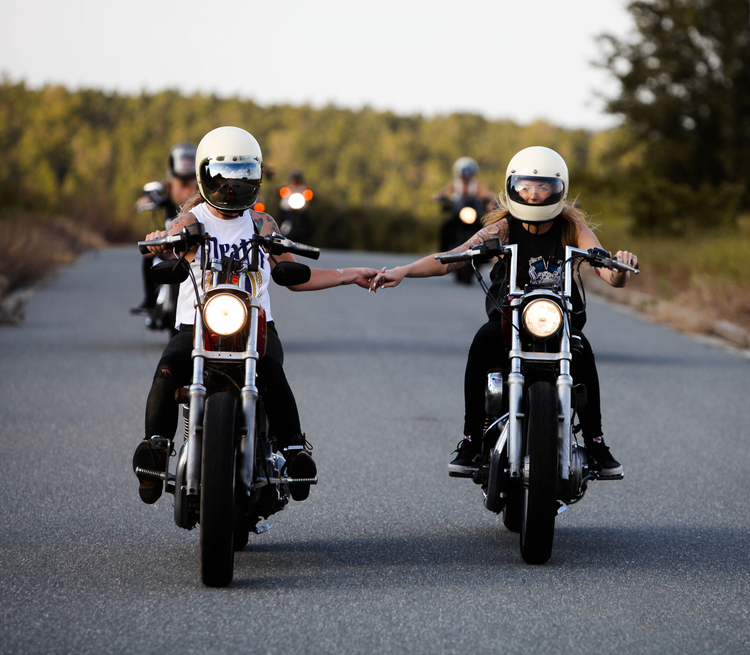 "I set out to create the group that I wanted to be proud of."
With their predecessors paving the way, The Iron Lilies formed with the intention of being an active group of female riders, devoted to sharing the love of the ride. Tessa Henley took over leadership of the group in 2019. Since she's come on board, she's eliminated the yearly membership fees and has made the group free to join, truly sticking to her goal of being inclusive. "I set out to create the group that I wanted to be proud of," said Henley, after explaining that her own beginnings within the motorcycle community started officially in 2017, but runs deeply rooted in her family, with her mother and sister having both been riders throughout their lives. 
"I feel this in my bones, this is what I'm meant to do. I want to figure out how to make motorcycling approachable for young women. All women are welcome. All walks of life, we're a very inclusive group.
The three Lilies were notable women in the motorcycle industry right when motorcycles were created. We're having this conversation now about how to diversify the motorcycle community and the stigmas women experience and how unapproachable it is, so, in the 1920s these women it didn't even phase them and I'm sure they had all sorts of words thrown at them, a lot more than we do now, but the fact that those three women had that big of an impact on the motorcycle community at its inception was really inspiring to me. That's the kind of feminine gusto that I want to instill within the Lilies. That's what it boils down to. We're a group of women that takes pride in the women we are. We're going to live that life and we're going to do it together, on motorcycles."
"Welcome the Challenge"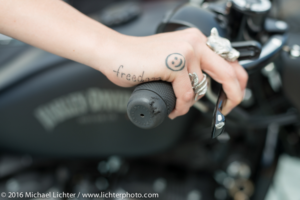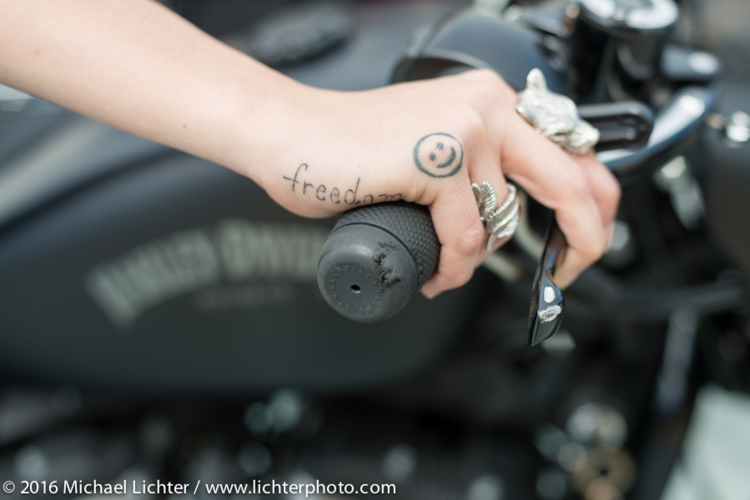 Henley is no stranger to the woes of the modern woman who is interested in learning about motorcycles. She herself always thought it was too complicated, the mechanics were too much but she had a friend encourage her to learn and she picked it up within a few days. The fire grew from there into the unstoppable force she's become today. 
"Motorcycling is not an approachable thing for women, especially young women. And to me, the fact that it's not approachable makes it that much more enticing. If they can do it, we can do it. Don't be afraid, welcome the challenge. You are in control of the bike, and bikes are meant to stay upright. [she laughs]"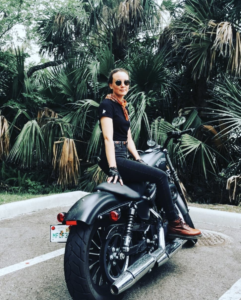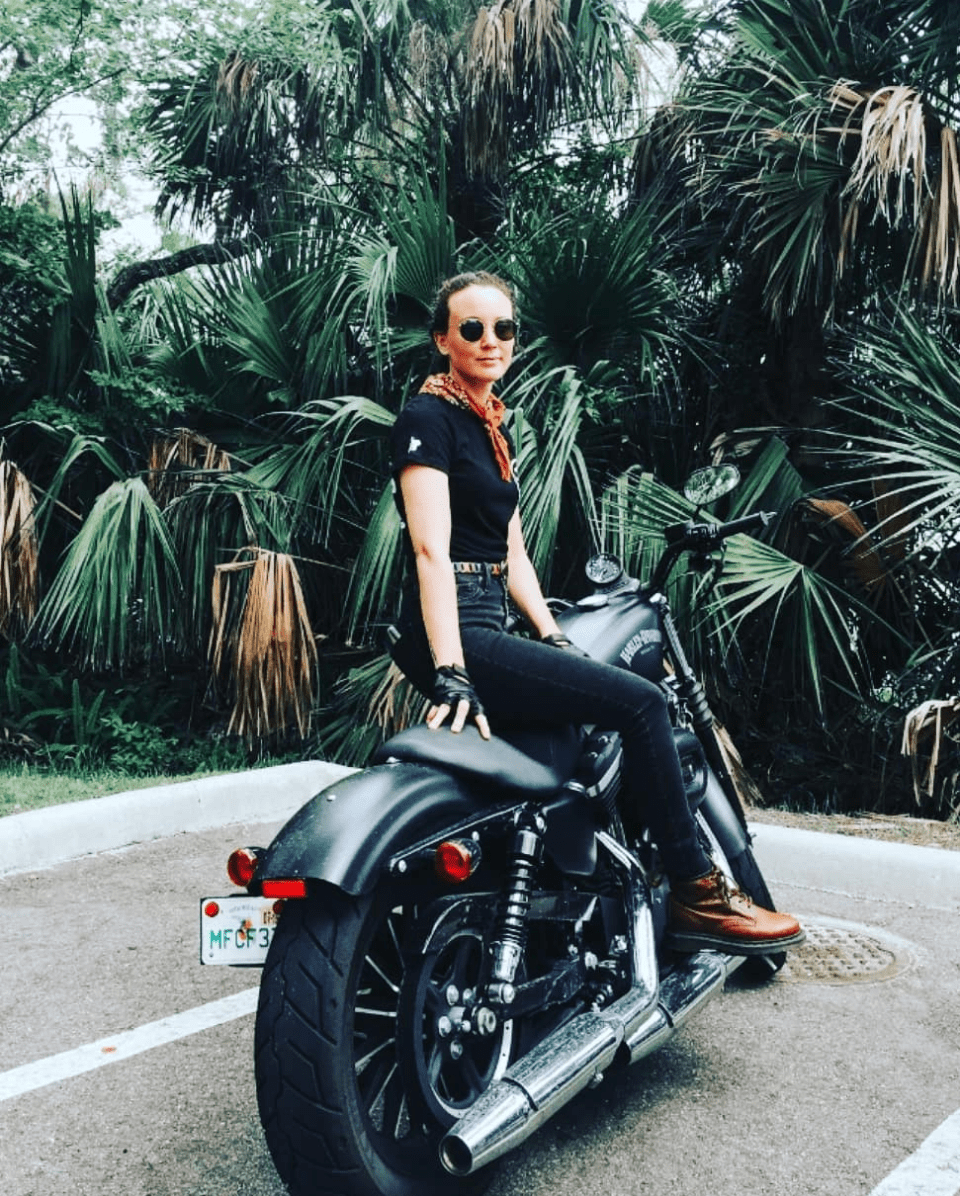 The Iron Lilies have a long road ahead of them, but luckily that's exactly how they like it. 
"The entire purpose of why we exist is to connect female riders together. Ride together, form that relationship together, experience motorcycling together with other people, and then build the confidence and pride of women through motorcycling. So we want to focus locally and then build chapters in other communities as we go. We'd love to have one big annual ride and right now we're trying to focus on connecting virtually and support each other through this pandemic."
The Iron Lilies are now free to join. Follow the link: here for more info. Get on your bikes and ride!