There's no doubt about it, we are the "home of the free, because of the brave". The most courageous heroes among us, our military veterans, have served our country and fought in the name of freedom and democracy for decades. And today, many of those patriots are a staple in the motorcycle community.
But how are veterans and motorcycles connected? According to Tony Tekaroniake Evans' article "How Returning WWII Vets Helped Establish America's Biker Clubs" on www.History.com, "the earliest archived date of a large motor-bicycle meet was 1903 and boasted 100 members strong. By 1924, they decided to call themselves the American Motorcycle Association and by WWII, the efficiency of a light motor-powered bike proved invaluable to the American military." The article explains how Harley Davidson and Indian were asked to provide over 100,000 bikes for their country's troops. Those bikes were used to move infantry, deliver medical supplies, ammunition, and deliver messages in difficult to reach areas.
Years later, returning from the war, soldiers tried to find ways to reconnect with society and start new lives. Evans states that, "within a few years, vets in leather jackets could be seen rumbling around America on machines like Harley's WLA model, known as the Liberator, tricked out with leather saddlebags and a rifle scabbard, which many had ridden during the war." Veterans found it difficult to jump back into society and blend in with their previous lives upon returning home, but motorcycles and biker clubs offered freedom and a sense of community that helped them adjust quicker back to daily life.
To most bikers, there's no better way to describe the word freedom than by hopping on a motorcycle. A biker enthusiast from a recent article on www.smartmotorcyclingguide.com,
explains, "Riding a motorcycle is a tangible essence of freedom. An addictive, hedonistic experience where your senses are assaulted and brought to life." Some veterans even describe riding a motorcycle as "therapeutic freedom" because riding down a long open road is a quick way to clear the head. According to Sean Mclain Brown's article, "Motorcycles are Saving the Lives of Wounded Veterans" written for Military.com, "Studies have shown that riding motorcycles has numerous mental health benefits too." Experts in the military and medical fields agree that activities like motorcycle-riding can temporarily help veterans dealing with PTSD.
In fact, that's the mission of Veterans Charity Ride or "VCR", a non-profit organization created by veteran Army Airborne Paratrooper, Dave Frey. The VCR's mission listed on www.VeteransCharityRide.com, says it "uses Motorcycle Therapy and other life changing, lifesaving holistic programs that provide uplifting and healing experiences for wounded, severely injured and amputee veterans from all branches of service." Many biker clubs and organizations like VCR actively serve their communities through charity rides or other volunteer events, raising money and awareness to help our veterans at home and overseas.
Motorcycle clubs and the military often go hand in hand due to the similarities like their own coat of arms, uniforms, and ranks, but more importantly they both offer a close-knit group that continues to serve. There's no doubt about it, from every mountainside and stretch of road, choppers and the stars and stripes continue to let freedom ring wherever they ride.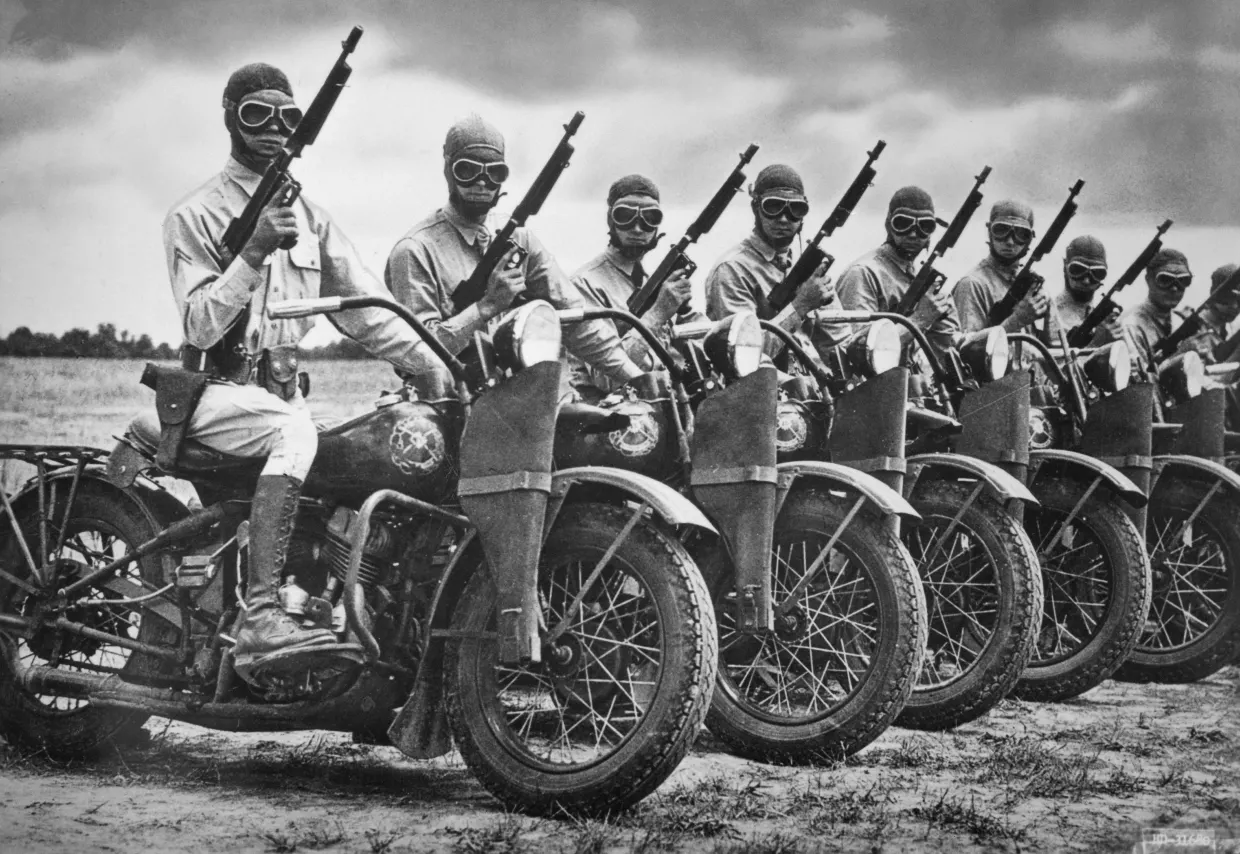 Image Source: https://www.history.com/news/motorcycle-gangs-origins-wwii-veterans