Daytona is a popular biker destination. The city draws in hundreds of thousands of bikers every year for Bike Week in the spring and Biketoberfest in the fall. But even when these events aren't going on, it's a haven for bikers of all kinds. Whether you're a local or just passing through, if you ride on two wheels you're going to want to stop by at least one of the bars on our list of the Top Biker Bars in Daytona to show off your bike, meet other riders, and see what everyone else is riding these days.
1.     Full Moon Saloon
Claim to Fame: Old-school Pool Hall
The Full Moon Saloon is the best pool hall in Daytona, and a well-known biker hot spot. Tournaments go on year-round, and for those who just want to enjoy themselves, free table time is available on Tuesdays and Saturdays. The drink prices are reasonable, the bartenders are friendly, and the bathrooms are spotless. It's a dive bar environment without the dive bar level of cleanliness.

https://daytonabeachmainstreet.com/venue/full-moon-saloon/
2.     Dirty Harry's Pub
Claim to Fame: Free Barbecue on the First Sunday of Every Month
Self-described as a cozy pub with a nightclub atmosphere, Dirty Harry's Pub has everything you could want from a biker bar: good food, cold beer, friendly staff, sports, and even karaoke. Even though it's commonly frequented by tourists, it's stayed true to its roots and remained a popular spot with Daytona locals. Be sure to stop by on the first Sunday of the month for the best free BBQ you'll ever eat!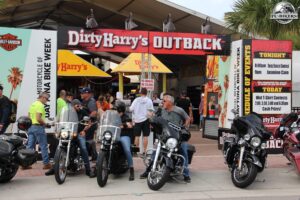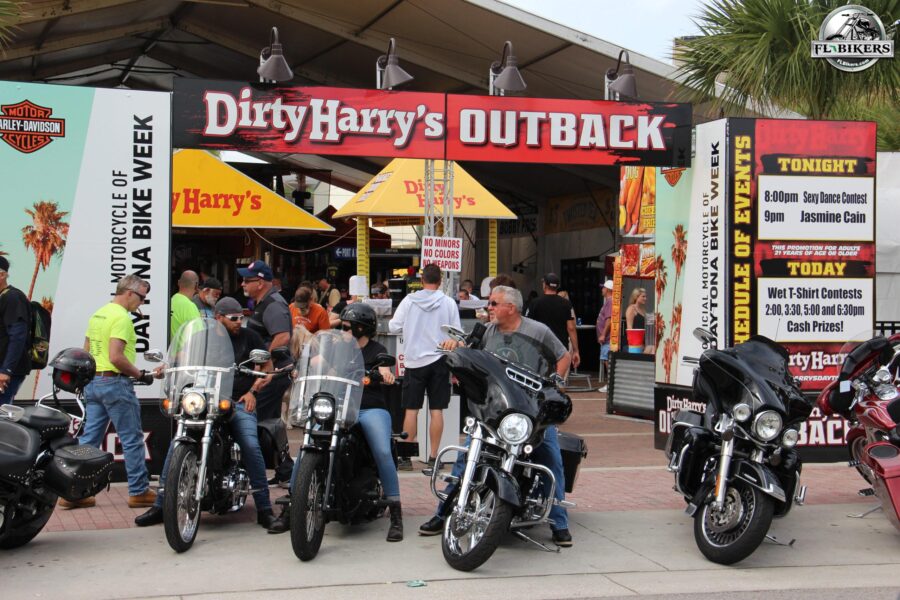 3.     Main Street Station
Claim to Fame: Wednesday Bike Nights
Main Street Station has a history like no other in Daytona. Originally owned by Bill Franc (the man who built the Daytona race track), Main Street Station was once a gas station/garage that he transformed into one of the best bars in the city. For obvious reasons, it's been a favorite among car enthusiasts since it opened, but every Wednesday night they host a Bike Night just for motorcycle riders that always brings in a good crowd. The drinks are cold, the people are friendly, and the atmosphere is exactly what you'd expect from a biker bar built on history.

4.     Boot Hill Saloon
Claim to Fame: Classic Biker Bar
Pints and standard bar bites are dished out at this old-school biker bar. One of the oldest bars on Main St. in Daytona, Boot Hill Saloon has stuck to the old adage "If it ain't broke, don't fix it" and remained largely the same as it was when it first opened. But that's exactly what drives bikers to this bar in droves. The vintage memorabilia and photos that cover the walls and decorate the bar harken back to a bygone era that even the youngest biker in your group will feel nostalgic for. If you're looking for a relaxed vibe, stop by during the week. But, if you want to meet other bikers, be sure to swing by on a Saturday night. Don't be surprised if it feels like every biker in the Daytona area is there – that just might be the case.

5.     Froggy's Saloon
Claim to Fame: Daytona Staple
Froggy's is a fun, raunchy bar that's always good for a good time. This is definitely not a bar you'll want to bring the kids to as you never know who will be dancing on the bars or what they'll be wearing. Instead, bring your buddies and enjoy the show. While still popular with the locals, Froggy's has become a hot tourist spot as well. If you come on a Friday or Saturday night expect it to be packed!

6.     Iron Horse Saloon
Claim to Fame: Burnout Pit and Wall of Death
The Iron Horse Saloon is THE authentic biker bar in Daytona, with a carnival-esque atmosphere that draws crowds even when there aren't any events going on. If you won't be participating in the "Burnout Pit" or "Wall of Death" be sure to grab a seat on the upper deck to get the best view in the house. They have events almost every weekend, so be sure to check on their website to see what's scheduled before heading over.

7.    Ed Waldens Bar
Claim to Fame: Local Bar
The most local bar on our list, Ed Waldens is just the hole-in-the-wall biker bar you've been looking for in Daytona. It's a cash-only, beer-only, no-frills type bar that resembles an old-school gas station in the best way possible. Be sure to stop by on Wednesday for Pool Night and Sunday for Cornhole Tournaments.

https://www.tripadvisor.com/Attraction_Review-g34172-d5831439-Reviews-Ed_Walden_s_Bar-Daytona_Beach_Florida.html